10 Best Business Phone Apps in 2023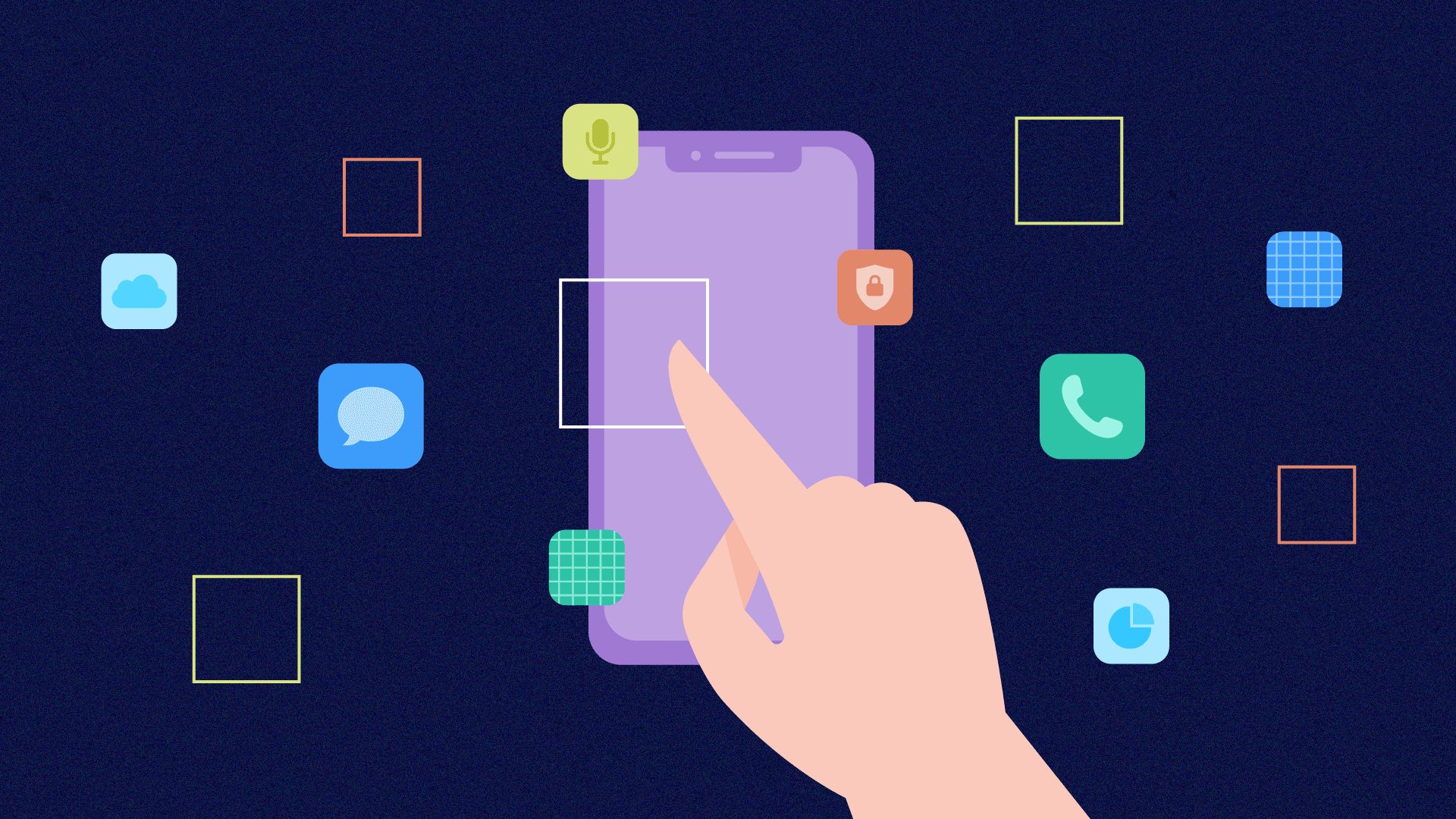 As remote work becomes more common, it can be difficult for employees to separate their work lives from their personal lives, especially if they're using their personal devices and phone numbers for work calls.
Businesses looking to improve how their employees make and receive work calls may begin researching for a business phone app. These apps allow users to have separate phone numbers, known as virtual phone numbers, that are used solely for business communications.
Your virtual phone number can be accessed via a mobile or desktop app, and calls can be taken in the office or on-the-go without interruption. These numbers are also easy to set up and more lines can be added as your business grows.
To help you choose the right option for your business needs, we've compiled the top 10 business phone app options on the market today.
Top 10 business phone apps
1. Nextiva
Nextiva's business phone app allows users to call, instant chat, or video conference with a single click. Users can move from the mobile app to the desktop app seamlessly, making it great for on-the-go calls and working from your desktop at home or in the office.
Nextiva provides a suite of business phone features with its plans. These features streamline your communications with one easy-to-use app, making it the best choice for most businesses. That's why we have it at the top of our list.
Nextiva top business phone app features
An auto attendant so inbound callers can quickly select which department they need to speak with by using their dial pad.
Local and toll-free numbers so customers don't have to pay a fee when they reach your business. A vanity number also increases the credibility of your business.
Unlimited HD voice calls from any computer or mobile phone.
Custom caller ID so prospects know who is calling ahead of time, increasing your chances of them picking up the phone. In fact, 76% of calls go unanswered if they're from unidentified or unfamiliar phone numbers.
Call routing so inbound callers reach the right departments, thus, reducing long wait times and improving the customer experience.
Nextiva pricing
Essential plan: $19.95/month
Professional plan: $20.95/month
Enterprise plan: $27.95/month
2. Sideline
Sideline strives to organize communication, simplify customer interactions, enhance responsiveness, and boost team collaboration with its "second number" feature that allows users to add a second phone number to their existing phone line.
Sideline top business phone app features
2nd number, allowing users to have work and personal communication in one place.
Business texting so users can text clients and customers for relationship-building beyond a call or a sequence of emails.
Auto-reply where missed calls are transformed into text messages so there isn't a back-and-forth game of tag between companies and clients.
Team number, which puts one number on multiple phones to share responsibilities and communication with teammates.
Sideline pricing
Monthly plan: $9.99
6-month plan: $49.99
Yearly plan: $99.99
3. Unlisted App
Unlisted App gives its users a new phone number for their business needs. Their goal is to help users stop carrying a second phone around and communicate on their own terms, which means no more late-night client calls while you're busy at home.
While the app itself is no-frills, Unlisted positions itself as an app for business and social purposes – even noting how you can give your second number out to dates you just started talking to or people you're selling your old couch to.
Unlisted top business phone app features
Separate phone numbers are accessible via an app on your mobile device.
Uses a real phone number with your local area code or a different area code if your business is targeting a certain location or demographic.
Unlisted pricing
Basic: $2.99/month
Unlimited: $9.99/month
Custom: If your needs are more unique or you need a larger package deal, the Unlisted App can develop a pricing package that works with your budget.
4. 1-VoIP
1-VoIP is a residential and business VoIP provider that also offers its users SIP trunking. Their residential package offers local, U.S., and Canadian, or international call packages, making it easy to connect with friends, family, and colleagues near and far. Their business package can even be broken down into a cost-per-minute over a call.
1-VoIP top business phone app features
Digital call forwarding to additional phone numbers.
Digital softphone so users can make and receive calls from mobile or desktop devices.
A do-not-disturb mode for when you need to unplug.
A U.S.-based support team and a 24/7 support center so that someone's always available should a problem arise.
1-VoIP pricing
Residential: $8.97/month
Business VoIP: $14.97/month
SIP Trunking: $29.97
5. Banter.io
Banter.io offers a unified voice, text, and fax tool for its users. Their texting feature enables businesses to engage in SMS marketing, while their voice and fax tools allow for a more familiar business phone experience. Users get unlimited calling and texting capabilities, browser calling, app integrations, and more.
Banter.io top business phone app features
Custom caller ID so prospective customers know who's calling them ahead of time.
Call recording for internal training purposes and recalling important details from a call.
Web browser calling in case you don't want to use your mobile device to make a call
Integrations for over 1,000 apps to help streamline your workflows.
Banter.io pricing
Standard: $19.99/month
Enterprise: Enterprise calling packages require negotiation with Banter.io's sales team.
6. Ring Deck
RingDeck is a business phone system that allows users to call from anywhere on any device. If you're looking for a way to keep business and personal calls separate, but are tired of carrying around a second cell phone for work, Ring Deck can keep both types of calls conveniently in one place.
Ring Deck top business phone app features
Local and toll-free numbers as part of each package.
Manage business calls from your mobile device or a desktop computer.
Add extra numbers for as little as $2 per month.
Ring Deck pricing
Local number with 1000 minutes: $20/month
Local number with 5000 minutes: $30/month
Local number with 10,000 minutes: $40/month
Toll-free number: $5/month plus $0.02/minute
7. GenVoice
GenVoice offers a cloud-based business phone system for its users. With over 40 business phone system features, GenVoice provides users with an array of options to make calling customers easy and fun for everyone involved. From holding music to call parking, users get to have a customized calling experience.
GenVoice top business phone app features
Toll-free and global number functionality.
Business hours so calls are rerouted during your off-hours.
An address book so all of your most important contacts are saved automatically.
Local numbers increase the trustworthiness of your brand or business, even without a standalone office.
GenVoice pricing
Basic: $20/month
Team: $25/month
Enterprise: $35/month
8. Phone Wire
Phone Wire is a cloud PBX provider available on Android or iPhone. It is a mobile-first solution that also offers desk phones as an option for users, should they choose to purchase them.
Phone Wire top business phone app features
Call queuing so inbound callers know their place "in line" and aren't waiting on hold aimlessly.
The option to blacklist and whitelist a set of phone numbers.
Call-to-email functionality so if you miss a call, it will be transcribed in an email and sent straight to your inbox.
Phone Wire pricing
Phone Wire gates their pricing information and it can only be accessed via their contact form.
9. Netlines
Netlines is a small business phone system that users can access easily through an app. Keep business and personal calls separate, and use Netlines' features to make business communication simplified in the palm of your hand. At just $1 more per month per line, you can add additional lines for varying business needs.
Netlines top business phone app features
A second business line with the option the port over your existing phone number as well.
Auto-attendant to route inbound callers to the correct departments via dial pad.
Call management, which encompasses call forwarding, screening, recording, and blocking.
Netlines pricing
$9/month if billed annually, plus $4.50/month for each additional user.
$10/month if billed monthly, plus $5/month for each additional user
10. Vonix.io
Vonix.io offers cloud voice and messaging for its users, among other offerings such as business texting and team chat to improve internal collaboration. Businesses can post on their social media channels directly from Vonix.io as well, allowing you to connect with your customers wherever they are.
Vonix.io top business phone app features
Unlimited calling in North America with no extra fees.
Personal, direct line of contact with its in-house support team.
Call analytics and reporting to get data about call times, call volume, and other metrics.
Vonix.io pricing
Standard: $24.99 per-user, per-month, plus taxes and fees.
Pro: $33.99 per-user, per-month, plus taxes and fees.
Premium: $42.99 per-user, per-month, plus taxes and fees.
Enterprise: If your team needs a more robust plan, speak to a sales representative.
So, why should you go with Nextiva's business phone app?
Having a business phone app that is reliable, flexible, and feature-rich is important for any growing business, but not just any provider will do.
Nextiva is the provider chosen by more than 100,000 businesses across the U.S. With more than 40 features in one easy-to-use, comfortably-priced business phone app, Nextiva makes communication with customers seamless and enjoyable.
To get started, take a look at our pricing page for a complete breakdown of how each of our plans is priced. You'll also get a transparent view of each feature included with each plan.